Endoscopy Equipment Repairs
MD Endoscopy offers endoscopy equipment repair services for Olympus and Pentax Endoscopes, Video Processors, Light Sources and accessories. We repair all large diameter GI endoscopes such as Colonoscopes | Gastroscopes | Duodenoscopes | Sigmoidoscopes and small diameter endoscopes such as Bronchoscopes | Rhinolaryngoscopes | Cystoscopes | Ureteroscopes | Intubation Scopes.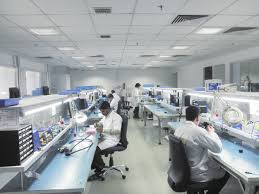 Whether your current equipment is in need of a simple repair or a full rebuild, you can count on MD Endoscopy. Our On Site repair department can have your endoscopes running "Like-New" again. Every Repair passes through rigorous quality control standards and meets Original Manufacturer Specifications. Our Repairs are guaranteed against defects in materials and workmanship for 12-months. With OEM trained technicians and engineers our customers can rest easy knowing they are in the best hands. We certify each and every repair with our industry leading warranty to ensure the work is done right every time with substantial cost savings.
We offer the longest endoscopy equipment repair warranty of 12-mths on all minor and major endoscope repairs and the ONLY 24-mth warranty on all endoscope refurbishments or complete overhauls.
Here are a few things that
set us apart
from OEMs and other third-party repair centers:
Fast Turnaround Times: Most of our minor repairs are done within 24 hours and major repairs within 3-4 days, as opposed to the two-week timeline that most OEMs offer for all repairs.

Lower Costs: Our repairs are often 50% less than those offered by OEMs and other third-party repair centers.

Commitment to Quality: We treat every piece of equipment as if it were going to be used on one of our loved ones. All of our repair technicians are properly educated and certified in the handling and repair of endoscopes and endoscopy equipment.

Customer Repair Portal: Our customer portal makes the repair process convenient and manageable. The MD Endoscopy Web Portal allows you to request shipping labels, approve work orders, and track the status of your repairs with ease.

Direct Communication: When you call us, you speak with a real person (something that's hard to find in the age of automated phone systems). Each of our clients has a dedicated sales rep who is available to help when needed. You will never be left guessing about the status of your repairs.