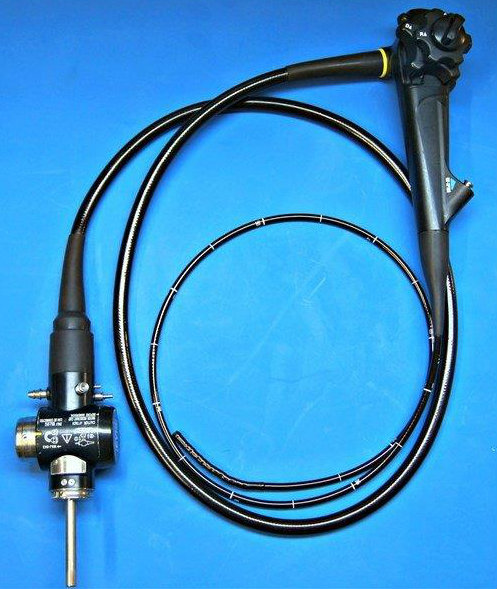 Olympus EXERA GIF-XP160 Video Gastroscope
$7500
For Sale: Refurbished Olympus GIF-XP160 Slim Gastroscopes
Certified Pre-Owned Used Olympus GIF-XP160 Video Gastroscope Completely Refurbished with 24 Month Warranty.
Extra-narrow insertion tube measuring a mere 5.9mm across
Ergonomically designed grip to enhance scope maneuverability and handling
Scope ID function stores individual scope information such as number of procedures performed
Compatible with Olympus CV-190, CV-180 and CV-160 video processors
Specifications:
Diameter: 5.9mm
Working Length: 103cm
Instrument Channel: 2.0 mm
The Olympus GIF-XP160 is a video gastroscope used for gastrointestinal endoscopy applications in hospitals and clinics. Featuring outstanding image quality, an ultra-slim insertion tube and instrument channel, and extra-wide field of view, it is designed to facilitate detailed observations in a way that is more convenient for the patient. It features an insertion tube with a diameter of 5.9 millimeters, an instrument channel with a diameter of 2.0 millimeters, and a working length of 1030 millimeters. It has a 4-way angulation and a broad 120-degree field of view which facilitate comprehensive and extensive observation within the upper gastrointestinal tract. These features reduce patient anxiety and discomfort, improve user experience, and improve its insertion capabilities. Its ergonomic grip increases its maneuverability, while its easy-to-access controls and user programmable switches enhance its operability. The GIF-XP160 is designed to produce excellent image quality even in the expanded full height mode when fused with the dedicated CV-160 video system center. It is also equipped with a scope ID function designed to save individual scope information and display it on the monitor to facilitate endoscopy suite management.


M.D. Endoscopy offers the following warranty Terms and Conditions for all equipment purchased and complete refurbishment repairs:
The following warranty terms will last for 24-months from the date of purchase.
Coverage shall include all parts (24-months) and labor (24-months) incurred to the customer from any manufacturer or replacement part defects.
The customer shall be responsible for parts and labor charges for any and all repairs determined by M.D. Endoscopy to be caused by misuse, mishandling, excessive wear & tear, or accidental damage.
The customer shall be responsible for any and all shipping charges incurred, if equipment is determined to be damaged through misuse or mishandling.
Warranty shall be null and void if determined by M.D. Endoscopy that the equipment has been sent to an outside vendor for parts or labor during the warranty period.
Warranty shall also be voided should the equipment be sold to another individual or company.
EXAMPLES of client misuse, mishandling, or accidental damage include:
THERE MAY BE FURTHER INSTANCES OF ACCIDENTAL DAMAGE NOT LISTED ABOVE, IN WHICH THE WARRANTY WILL NOT COVER PARTS OR LABOR CHARGES, M.D. Endoscopy RESERVES THE RIGHT TO MAKE THIS DETERMINATION.
Warranty agreement shall begin on date of client purchase and shall run concurrently for 24 months, including weekends and holidays until expiration.
Request More Info
Add to Cart