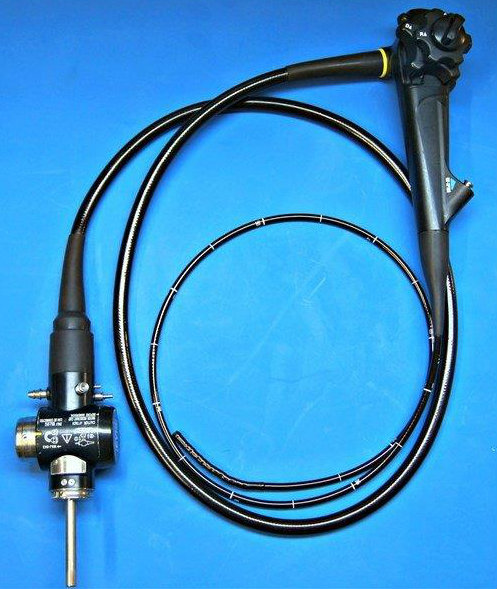 Olympus EXERA GIF-XP160 Video Gastroscope
$6950
-Warranty: 24-Months
-Return Policy: 7-Day Satisfaction Guarantee.
-Condition: Certified Pre-Owned | Refurbished
-Availability: In-Stock
-Specifications:
Diameter: 5.9mm
Working Length: 103cm
Instrument Channel: 2.0 mm
Field of View: 140 degrees
Angulation Range: Up: 210, Down: 90, Right: 100, Left 100
For Sale: Refurbished Olympus GIF-XP160 Slim Gastroscopes
Certified Pre-Owned Used Olympus GIF-XP160 Video Gastroscope Completely Refurbished with

24 Month Warranty.
Extra-narrow insertion tube measuring a mere 5.9mm across
Ergonomically designed grip to enhance scope maneuverability and handling
Scope ID function stores individual scope information such as number of procedures performed
Olympus

GIF-XP160

Specifications:
Diameter: 5.9mm
Working Length: 103cm
Instrument Channel: 2.0 mm
The Olympus GIF-XP160 is a video gastroscope used for gastrointestinal endoscopy applications in hospitals and clinics. Featuring outstanding image quality, an ultra-slim insertion tube and instrument channel, and extra-wide field of view, it is designed to facilitate detailed observations in a way that is more convenient for the patient.
These features reduce patient anxiety and discomfort, improve user experience, and improve its insertion capabilities. Its ergonomic grip increases its maneuverability, while its easy-to-access controls and user programmable switches enhance its operability. The GIF-XP160 is designed to produce excellent image quality even in the expanded full height mode when fused with the dedicated CV-160 video system center.
Ultra-thin insertion part with an outer diameter of only 5.9 mm.
The ultra-thin design of the endoscope is ideal for endoscopic examination of patients with strictures of the gastrointestinal tract, narrow lumen of the pharynx and esophagus. This endoscope can also be used for conventional endoscopic procedures.
The constant maintenance of good visibility is ensured by the presence of a nozzle at the distal end. This allows organic particles to be washed off the surface of the objective lens, which may adhere during the procedure.
A 2.0 mm diameter channel provides suction and biopsy.
The wide field of view (120 °) and the ability of the distal end to deviate in 4 directions (180 ° up, 90 ° down and 100 ° to the right / left) contribute to a complete endoscopic examination of the upper digestive tract.
The handle of the device has a shape that provides operator comfort during operation and excellent maneuverability of the device, while the control knobs and buttons are located in such a way that they are easily accessible.
The endoscopic image of excellent quality can also be enlarged when working in full format. This operating mode can be used in conjunction with the CV-160 system video center recommended by us.
The endoscope identification function allows you to save individual information about the endoscope and display it on the monitor screen. This facilitates the further accounting of endoscopic procedures.
MD Endoscopy Warranty Terms & Conditions for Equipment Purchases | Complete Refurbishment Repairs:
The following warranty terms will last for 24-months from the date of purchase.
EXAMPLES of client misuse, mishandling, or accidental damage include:
THERE MAY BE FURTHER INSTANCES OF ACCIDENTAL DAMAGE NOT LISTED ABOVE, IN WHICH THE WARRANTY WILL NOT COVER PARTS OR LABOR CHARGES, MD Endoscopy RESERVES THE RIGHT TO MAKE THIS DETERMINATION.
Warranty agreement shall begin on date of client purchase and shall run concurrently for 24 months, including weekends and holidays until expiration.
Every
ENDOSCOPE
purchased from MD Endoscopy will arrive with the following accessories:
Case with Key
Air/Water & Suction Valve
Water Resistant Soaking Cap
Cleaning Brushes | Connectors
Operators | Reprocessing Manuals

24-month

Warranty Certificate
Every
PROCESSOR/LIGHTSOURCE
purchased from MD Endoscopy will arrive with the following accessories:
Keyboard
Water Bottle
Video Connector | Pigtail (if applicable)
RGB or SDI Monitor Cable
Power Cords
Photo Cable (if applicable)
Printer Remote Cable (if applicable)
Operators Manual

24-month

Warranty Certificate
Every
COMPLETE SYSTEM
purchased from MD Endoscopy will arrive with the following accessories:
All the above PLUS
FREE Leak Tester
FREE Shipping (US LOCATIONS)
FREE Installation (US LOCATIONS)
FREE Reprocessing | Cleaning In-service (US LOCATIONS)
FREE "Go-Live" Procedure Day Assistance (US LOCATIONS)

24-month

Warranty Certificate