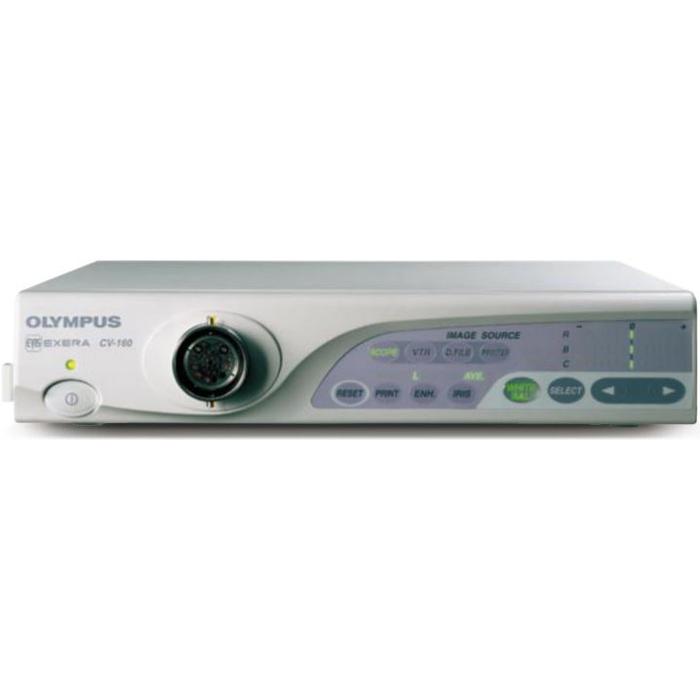 Olympus EVIS EXERA CV-160 Series Endoscopy System
Request a Quote
-

Warranty:

24-Months-

Return Policy:

7-Day Satisfaction Guarantee. -

Condition:

Certified Pre-Owned | Refurbished-

Availability:

In-stock
***Prices for Complete Systems vary due to which endoscopes and components are chosen. Please contact us for your Personalized Quote.***
For Sale:

Refurbished Olympus CV-160 Video System Tower
Certified Pre-Owned Used Olympus CV-160 Video System Completely Refurbished with

24 MONTH WARRANTY
Compatible with 180 standard definition scopes, 160, 150, 140, 130 and 100 series video endoscopes
Wide screen image functionality when used with Q series endoscopes
The Olympus CV-160 Video Endoscopy System includes the following equipment:
Olympus EVIS EXERA CV-160 Video Processor
Olympus EVIS EXERA CLV-160 Xenon Light Source
Olympus CF-Q160AL Colonoscope | Olympus CF-Q160L Colonoscope or Olympus PCF-160AL Colonoscope (others models available)
Olympus GIF-Q160 Gastroscope | Olympus GIF-160 Gastroscope or Olympus GIF-XP160 Gastroscope (others models available)
Meciap USB-200 Image Capture Device or Olympus OEP-4 Mavigraph Printer
New 26" HD LED Monitor
New Cart
New Suction Pump.
-Accessories included are cases, valves, biopsy port covers, soaking cap, cleaning brush, biopsy forceps, pigtail, keyboard and water bottle.
-Photograph is for reference only as each system is customized with specific features and options to fit your budgetary needs.
Options:
Many other scopes available as well, including bronchoscopes, duodenoscopes, sigmoidoscopes and slim & therapeutic versions
MD Endoscopy Warranty Terms & Conditions for Equipment Purchases | Complete Refurbishment Repairs:
The following warranty terms will last for 24-months from the date of purchase.
EXAMPLES of client misuse, mishandling, or accidental damage include:
THERE MAY BE FURTHER INSTANCES OF ACCIDENTAL DAMAGE NOT LISTED ABOVE, IN WHICH THE WARRANTY WILL NOT COVER PARTS OR LABOR CHARGES, MD Endoscopy RESERVES THE RIGHT TO MAKE THIS DETERMINATION.
Warranty agreement shall begin on date of client purchase and shall run concurrently for 24 months, including weekends and holidays until expiration.
Every
ENDOSCOPE
purchased from MD Endoscopy will arrive with the following accessories:
Case with Key
Air/Water & Suction Valve
Water Resistant Soaking Cap
Cleaning Brushes | Connectors
Operators | Reprocessing Manuals

24-month

Warranty Certificate
Every
PROCESSOR/LIGHTSOURCE
purchased from MD Endoscopy will arrive with the following accessories:
Keyboard
Water Bottle
Video Connector | Pigtail (if applicable)
RGB or SDI Monitor Cable
Power Cords
Photo Cable (if applicable)
Printer Remote Cable (if applicable)
Operators Manual

24-month

Warranty Certificate
Every
COMPLETE SYSTEM
purchased from MD Endoscopy will arrive with the following accessories:
All the above PLUS
FREE Leak Tester
FREE Shipping (US LOCATIONS)
FREE Installation (US LOCATIONS)
FREE Reprocessing | Cleaning In-service (US LOCATIONS)
FREE "Go-Live" Procedure Day Assistance (US LOCATIONS)

24-month

Warranty Certificate