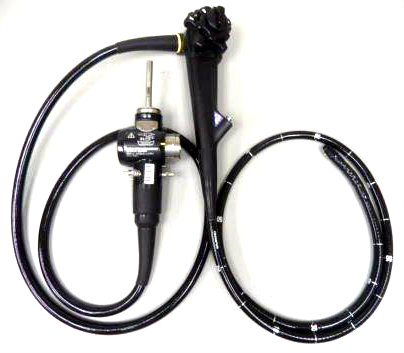 Olympus EXERA TJF-160VF Video Duodenoscope
$7950
-Warranty: 24-Months
-Return Policy: 7-Day Satisfaction Guarantee.
-Condition: Certified Pre-Owned | Refurbished
-Specifications:
Diameter: 11.3mm
Working Length: 124cm
Instrument Channel: 4.2mm
Field of View: 100 degrees
Angulation Range: Up: 120, Down: 90, Right: 110, Left 90
For Sale: Refurbished Olympus TJF-160VF Therapeutic Duodenoscopes
Certified Pre-Owned Used Olympus TJF-160VF Video Duodenoscope Completely Refurbished with

24 MONTH WARRANTY.
Innovative V-Groove forceps elevator offers reliable duodenoscopic capability when combined with dedicated V-System ERCP Devices
Slim 11.3mm insertion tube with a wide 4.2mm instrument channel
Ergonomically designed grip to enhance scope maneuverability and handling
Scope ID function stores individual scope information such as number of procedures performed
Olympus

TJF-160VF Therapeutic Duodenoscope

Specifications:
Diameter: 11.3mm
Working Length: 124cm
Instrument Channel: 4.2 mm
Field of View: 100 degrees
Angulation Range: Up: 120, Down: 90, Right: 110, Left: 90
Equipped with Olympus' new and
innovative V-Groove
, the revolutionary TJF-160VF makes it easier to perform device manipulation and exchange during ERCP with confidence and efficiency. The unique V-Groove on the elevator of the V-Scope allows it to be raised at a sharper angle than a conventional scope elevator, while securely locking the guidewire in position. Olympus' new guidewire - the LinearGuide-V™ - has been specifically designed for use with the TJF-160-VF and makes device guidance during ERCP remarkably easy.
The V-Scope is an integral part of Olympus' new V-System™ - the first system integrating precision-engineered endoscopes and EndoTherapy accessories.
The proprietary V-System design is built for simplicity; employing the unique V-Groove which locks the guidewire at the elevator, allowing for easier device exchange. Offering the choice between physician or assistant manipulation of accessories, the V-System delivers simple control of the guidewire and device, easy catheter exchange and enhanced cannulation.
The
EVIS EXERA Olympus TJF-160VF Video Duodenoscope
provides visualization of the gastrointestinal tract down to the duodenum in a minimally invasive procedure. Its slim 11.3-millimeter insertion tube glides easily into the delicate human anatomy which does not require any significant recovery after a non-sedated procedure. Its enhanced valve design for air or water and suction makes easy removal of visual obstruction for a clearer view. The distal end can also bend up, down, right, and left to allow a more detailed inspection. The EXERA Olympus TJF-160VF works with Olympus CV-190, Olympus CV-180, Olympus CV-160, Olympus CV-140 and video processors.
MD Endoscopy Warranty Terms & Conditions for Equipment Purchases | Complete Refurbishment Repairs:
The following warranty terms will last for 24-months from the date of purchase.
EXAMPLES of client misuse, mishandling, or accidental damage include:
THERE MAY BE FURTHER INSTANCES OF ACCIDENTAL DAMAGE NOT LISTED ABOVE, IN WHICH THE WARRANTY WILL NOT COVER PARTS OR LABOR CHARGES, MD Endoscopy RESERVES THE RIGHT TO MAKE THIS DETERMINATION.
Warranty agreement shall begin on date of client purchase and shall run concurrently for 24 months, including weekends and holidays until expiration.
Every
ENDOSCOPE
purchased from MD Endoscopy will arrive with the following accessories:
Case with Key
Air/Water & Suction Valve
Water Resistant Soaking Cap
Cleaning Brushes | Connectors
Operators | Reprocessing Manuals

24-month

Warranty Certificate
Every
PROCESSOR/LIGHTSOURCE
purchased from MD Endoscopy will arrive with the following accessories:
Keyboard
Water Bottle
Video Connector | Pigtail (if applicable)
RGB or SDI Monitor Cable
Power Cords
Photo Cable (if applicable)
Printer Remote Cable (if applicable)
Operators Manual

24-month

Warranty Certificate
Every
COMPLETE SYSTEM
purchased from MD Endoscopy will arrive with the following accessories:
All the above PLUS
FREE Leak Tester
FREE Shipping (US LOCATIONS)
FREE Installation (US LOCATIONS)
FREE Reprocessing | Cleaning In-service (US LOCATIONS)
FREE "Go-Live" Procedure Day Assistance (US LOCATIONS)

24-month

Warranty Certificate