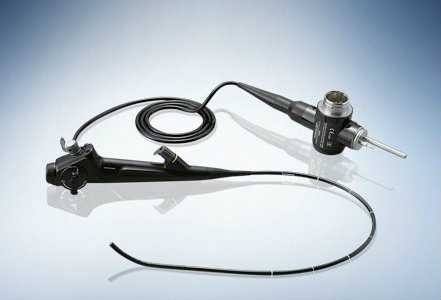 Olympus EXERA II BF-1TQ180 Video Bronchoscope
Request a Quote
-Warranty: 24-Months
-Return Policy: 7-Day Satisfaction Guarantee.
-Condition: Certified Pre-Owned | Refurbished
-Specifications:
Diameter: 6.3mm
Working Length: 60cm
Instrument Channel: 2.8mm
Field of View: 120 degrees
Angulation Range: Up: 180, Down: 130
Request Quote
For Sale: Refurbished Olympus BF-1TQ180 Therapeutic Bronchoscopes
Certified Pre-Owned Used Olympus BF-1TQ180 Video Bronchoscope Completely Refurbished with 24 Month Warranty.
Wide 2.8mm diameter instrument channel with large full screen image size
Ergonomically designed grip to enhance scope maneuverability and handling
Scope ID function stores individual scope information such as number of procedures performed
When used with a Exera II 180 processor and light source, you have the benefit of Narrow Band Imaging (NBI) to enhance visualization of mucosal morphology
Specifications:
Diameter: 6.3mm
Working Length: 60cm
Instrument Channel: 2.8mm
Field of View: 120 degrees
Angulation Range: Up: 180, Down: 130
The Olympus BF-1TQ180 is a video bronchoscope used for bronchoscopy applications in hospitals and clinics. It has a slim 6.3-millimeter diameter with a 2.8-millimeter instrument channel for enhanced versatility during procedures, while its ergonomic grip enhances its maneuverability and improves efficiency in device handling. It is equipped with a compact, color-chip CCD which delivers clearer, larger, and crisper images, resulting to a more accurate observation of minute details and subtle textures for better outcomes. The wide field of view and a sufficient working length of the BF-1TQ180 allows for accurate observation of a wider area, and it can be easily maneuvered in the tracheobronchial tree. It is built fully insulated to be compatible with high-frequency electrosurgical devices, enhancing safety. Its ergonomically designed control and switch layout reduces fatigue for surgeons and medical specialists. The BF-1TQ180 is also designed with a Scope ID function which can store individual scope information, including the number of procedures performed. It is also compatible with the Olympus CV-180, Olympus CV-160, Olympus and CV-140 video processors.


M.D. Endoscopy offers the following warranty Terms and Conditions for all equipment purchased and complete refurbishment repairs:
The following warranty terms will last for 24-months from the date of purchase.
Coverage shall include all parts (24-months) and labor (24-months) incurred to the customer from any manufacturer or replacement part defects.
The customer shall be responsible for parts and labor charges for any and all repairs determined by M.D. Endoscopy to be caused by misuse, mishandling, excessive wear & tear, or accidental damage.
The customer shall be responsible for any and all shipping charges incurred, if equipment is determined to be damaged through misuse or mishandling.
Warranty shall be null and void if determined by M.D. Endoscopy that the equipment has been sent to an outside vendor for parts or labor during the warranty period.
Warranty shall also be voided should the equipment be sold to another individual or company.
EXAMPLES of client misuse, mishandling, or accidental damage include:
THERE MAY BE FURTHER INSTANCES OF ACCIDENTAL DAMAGE NOT LISTED ABOVE, IN WHICH THE WARRANTY WILL NOT COVER PARTS OR LABOR CHARGES, M.D. Endoscopy RESERVES THE RIGHT TO MAKE THIS DETERMINATION.
Warranty agreement shall begin on date of client purchase and shall run concurrently for 24 months, including weekends and holidays until expiration.