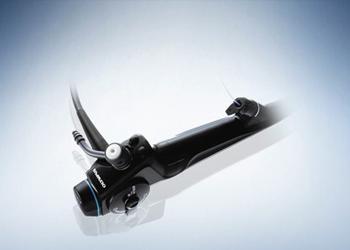 Olympus EXERA BF-XP160F Video Bronchoscope
Request a Quote
-Warranty: 24-Months
-Return Policy: 7-Day Satisfaction Guarantee.
-Condition: Certified Pre-Owned | Refurbished
-Specifications:
Diameter: 2.8mm
Working Length: 60cm
Instrument Channel: 1.2mm
Field of View: 120 degrees
Angulation Range: Up: 180, Down: 130
For Sale: Refurbished Olympus BF-XP160F Ultra-Slim Bronchoscopes
Certified Pre-Owned Used Olympus BF-XP160F Video Bronchoscope Completely Refurbished with

24 Month Warranty.
Combining the superior image quality of video with the versatility of fiberoptics, this HYBRID scope offers unprecedented access to the farthest recesses of the peripheral bronchi
With an ultra-slim design measuring only 2.8mm in diameter and has a surprising large 2.8mm instrument channel
Ergonomically designed grip to enhance scope maneuverability and handling
Scope ID function stores individual scope information such as number of procedures performed
Olympus BF-XP160F Hybrid Bronchoscope Specifications:
Diameter: 2.8mm
Working Length: 60cm
Instrument Channel: 1.2mm
Field of View: 120 degrees
Angulation Range: Up: 180, Down: 130
The EVIS EXERA BF-XP160F is a light, ergonomically designed bronchofibervideoscope. This innovative hybrid combines the best of video and fiber-optic technologies. With a CCD built into the control section, the BF-XP160F delivers images that are sharper, clearer, and larger than possible with a fiberscope while its ultrathin 2.8 mm insertion tube makes it ideal for bronchoscopy in very narrow lumina.
---
Key Benefits
Bright video images with less weight: With the versatility of a slim, lightweight fiberscope and the superior image quality of video technology, the BF-XP160F enables deep penetration into the lung without compromising image quality or size.
Ultrathin insertion tube: The slender 2.8 mm insertion tube enables access to the peripheral bronchi, yet still has a 1.2 mm diameter instrument channel for BAL, cytology brushings, or biopsies with a dedicated small diameter forceps.
Improved handling performance: While the ultrathin insertion tube alone significantly improves insertion characteristics, the BF-XP160F features other refinements such as a smaller bending radius and greater resistance to warping when compared to other fiberscopes.
MD Endoscopy Warranty Terms & Conditions for Equipment Purchases | Complete Refurbishment Repairs:
The following warranty terms will last for 24-months from the date of purchase.
EXAMPLES of client misuse, mishandling, or accidental damage include:
THERE MAY BE FURTHER INSTANCES OF ACCIDENTAL DAMAGE NOT LISTED ABOVE, IN WHICH THE WARRANTY WILL NOT COVER PARTS OR LABOR CHARGES, MD Endoscopy RESERVES THE RIGHT TO MAKE THIS DETERMINATION.
Warranty agreement shall begin on date of client purchase and shall run concurrently for 24 months, including weekends and holidays until expiration.
Every
ENDOSCOPE
purchased from MD Endoscopy will arrive with the following accessories:
Case with Key
Air/Water & Suction Valve
Water Resistant Soaking Cap
Cleaning Brushes | Connectors
Operators | Reprocessing Manuals

24-month

Warranty Certificate
Every
PROCESSOR/LIGHTSOURCE
purchased from MD Endoscopy will arrive with the following accessories:
Keyboard
Water Bottle
Video Connector | Pigtail (if applicable)
RGB or SDI Monitor Cable
Power Cords
Photo Cable (if applicable)
Printer Remote Cable (if applicable)
Operators Manual

24-month

Warranty Certificate
Every
COMPLETE SYSTEM
purchased from MD Endoscopy will arrive with the following accessories:
All the above PLUS
FREE Leak Tester
FREE Shipping (US LOCATIONS)
FREE Installation (US LOCATIONS)
FREE Reprocessing | Cleaning In-service (US LOCATIONS)
FREE "Go-Live" Procedure Day Assistance (US LOCATIONS)

24-month

Warranty Certificate