New, Used & Refurbished Veterinary Endoscopes for Sale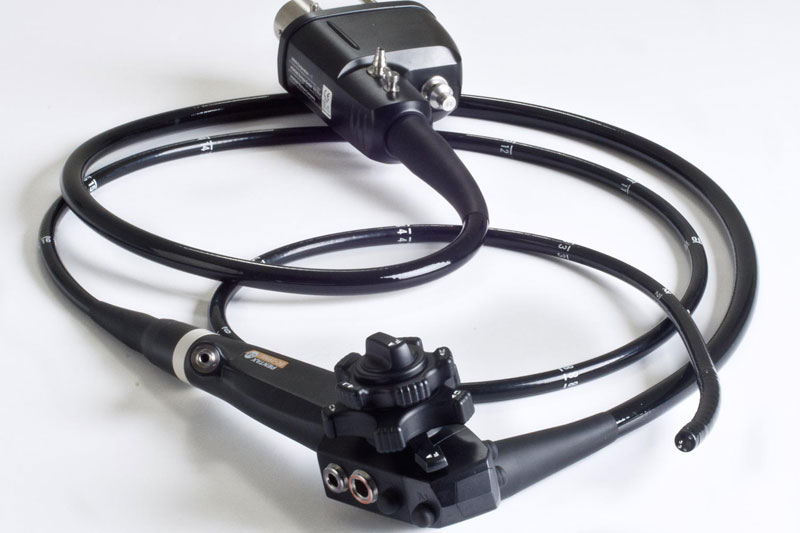 04/03/2020 Purchasing a veterinary endoscope can be a long process from researching the different types of endoscopes and pricing to learning to use and maintain the endoscope properly. Knowing which type of scope you need is a great start, but with so many options and compatibility needs it may be better to ask a professional. Should you purchase a new, used or refurbished endoscope? Will you need to train your staff to operate the endoscope? Many of these questions can be answered by an endoscopy equipment specialist.
Here are some general tips on what to look out for when buying an endoscope:
First, let's talk about endoscope cost. With so many different options and an industry that tends to hide their pricing this can be a difficult topic to traverse. We price our equipment based on many years of experience buying and selling. We show prices for some monthly specials on our shop page to give an idea of the cost of some endoscopy equipment. Buying refurbished is typically the lower cost alternative and you can even get a long warranty on refurbished endoscopes from MD Endoscopy, which leads to our next point.
A warranty on refurbished endoscopy equipment is typical, but the length of your warranty can vary significantly depending on the company performing the repairs. Most companies offer a one year warranty, some just a few months. Your endoscopy equipment is an expensive investment and it should typically last for more than one year, so we decided to offer a full twenty-four month warranty on refurbished endoscope purchases.
What if my broken endoscope is not covered under warranty? Contacting a reputable endoscope repair technician is the first step to diagnosing your equipment. Sending in your scope for diagnosis and repair is a simple process. You can start by submitting a repair request form online. Once you ship your scope to us it will be examined and diagnosed by one of our experts. You'll receive a repair estimate so you can choose whether to proceed with repair or consider replacement. Our repair tracking system notifies you of each update so you're never left waiting and wondering about the status of your endoscope repair.
Proper staff training is an important part of an endoscope purchase and can even prevent costly repairs in the future. You should ask your endoscope sales representative about staff training or support options provided with purchase. At MD Endoscopy we offer package deals with proper usage and staff maintanace training sessions. Contact us to ask if we will travel to your location to provide training services.
Hopefully we've helped clear up some of the questions you may have about purchasing your endoscopy equipment. For specific information on veterinary endoscopes for sale please check out our shop or contact MD Endoscopy today.