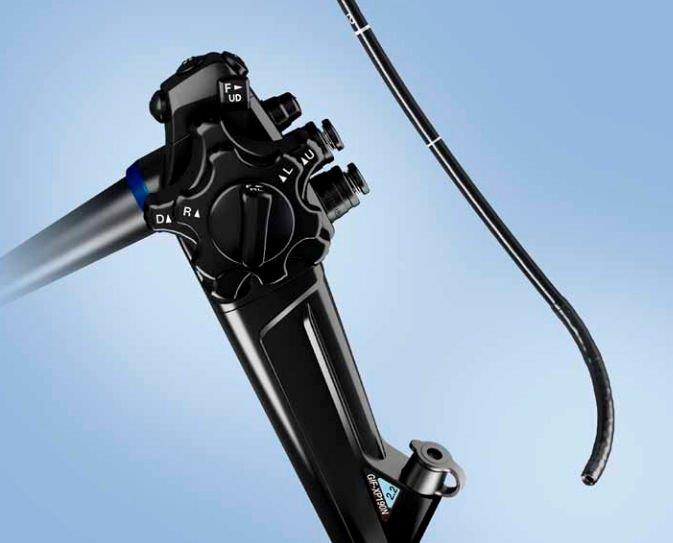 Olympus EXERA III GIF-XP190N Video Gastroscope
$19950
-Warranty: 24-Months
-Return Policy: 7-Day Satisfaction Guarantee.
-Condition: Certified Pre-Owned | Refurbished
-Specifications:
Diameter: 5.8mm
Working Length: 110cm
Instrument Channel: 2.2mm
Field of View: 140 degrees
Angulation Range: Up: 210, Down: 90, Right: 100, Left 100
For Sale: Refurbished Olympus GIF-XP190N Ultra Slim Gastroscopes
Certified Pre-Owned Used Olympus GIF-XP190N Video Gastroscope Completely Refurbished with

24 Month Warranty.
Delivers highest possible resolution and image quality
Ergonomically designed grip to enhance scope maneuverability and handling
Scope ID function stores individual scope information such as number of procedures performed
The benefit of Narrow Band Imaging (NBI) to enhance visualization of mucosal morphology
Must be used with Exera III CV-190 processor and CLV-190 light source
The Olympus EXERA III GIF-XP190N Video Gastroscope is the ideal choice when diagnosis using a super-slim videogastroscope is required. Excellent image quality, field-of view and illumination, coupled with enhanced NBI capabilities, make the Olympus GIF-XP190N Gastroscope a powerful tool for diagnostic gastroscopy via the transnasal route.
Olympus

GIF-XP190N Gastroscope

Specifications:
Diameter: 5.8mm
Working Length: 110cm
Instrument Channel: 2.2 mm
Field of View: 140 degrees
Angulation Range: Up: 210, Down: 90, Right: 100, Left 100
Superior image quality and wider field of view
The GIF-XP190N features improved image quality and illumination compared to previous generations. In addition, the field-of-view has increased to 140°, meaning the GIF-XP190N is an ideal tool for diagnosis in cases where a super-slim gastroscope is advantageous.
Wider possibilities for therapeutic interventions
HF surgery compatibility and a wider suction channel open new possibilities for therapy using the GIF-XP190N
Improved image quality
Olympus EXERA III endoscopes offer the highest level of endoscopic image quality, ensuring outstanding colour reproduction and even brightness across the whole endoscopic image – decisive in helping you establish a diagnosis. Thanks to improved signal processing, Olympus EXERA III endoscopes feature significantly reduced levels of halation and noise.
Waterproof One-touch Connector
EVIS EXERA III endoscopes feature a brand-new connector design no longer requiring the connection of a video or ScopeGuide cable. The connector is fully submersible, eliminating the need for a water-resistant cap.
Designed for ease-of-use
Ergonomically designed control section for enhanced gastroscope maneuverability, with easy-to-access controls and user-programmable switches.
MD Endoscopy Warranty Terms & Conditions for Equipment Purchases | Complete Refurbishment Repairs:
The following warranty terms will last for 24-months from the date of purchase.
EXAMPLES of client misuse, mishandling, or accidental damage include:
THERE MAY BE FURTHER INSTANCES OF ACCIDENTAL DAMAGE NOT LISTED ABOVE, IN WHICH THE WARRANTY WILL NOT COVER PARTS OR LABOR CHARGES, MD Endoscopy RESERVES THE RIGHT TO MAKE THIS DETERMINATION.
Warranty agreement shall begin on date of client purchase and shall run concurrently for 24 months, including weekends and holidays until expiration.
Every
ENDOSCOPE
purchased from MD Endoscopy will arrive with the following accessories:
Case with Key
Air/Water & Suction Valve
Water Resistant Soaking Cap
Cleaning Brushes | Connectors
Operators | Reprocessing Manuals

24-month

Warranty Certificate
Every
PROCESSOR/LIGHTSOURCE
purchased from MD Endoscopy will arrive with the following accessories:
Keyboard
Water Bottle
Video Connector | Pigtail (if applicable)
RGB or SDI Monitor Cable
Power Cords
Photo Cable (if applicable)
Printer Remote Cable (if applicable)
Operators Manual

24-month

Warranty Certificate
Every
COMPLETE SYSTEM
purchased from MD Endoscopy will arrive with the following accessories:
All the above PLUS
FREE Leak Tester
FREE Shipping (US LOCATIONS)
FREE Installation (US LOCATIONS)
FREE Reprocessing | Cleaning In-service (US LOCATIONS)
FREE "Go-Live" Procedure Day Assistance (US LOCATIONS)

24-month

Warranty Certificate