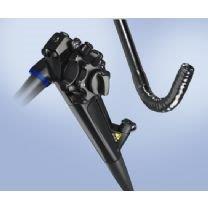 Olympus EXERA III GIF-H190 Video Gastroscope
$21500
For Sale: Refurbished Olympus GIF-H190 HD Gastroscopes
Certified Pre-Owned Used Olympus GIF-H190 Video Gastroscope Completely Refurbished with 24 Month Warranty.
Delivers highest possible resolution and image quality
Ergonomically designed grip to enhance scope maneuverability and handling
Scope ID function stores individual scope information such as number of procedures performed
The benefit of Narrow Band Imaging (NBI) to enhance visualization of mucosal morphology
Must be used with Exera III CV-190 processor and CLV-190 light source
Water Jet
Specifications:
Diameter: 9.2mm
Working Length: 103cm
Instrument Channel: 2.8 mm
Field of View: 140 degrees
Angulation Range: Up: 210, Down: 90, Right: 100, Left 100
Outstanding HD image clarity
The GIF-H190 delivers outstanding HD image quality in a gastroscope of just 9,2mm diameter, offering an optimal combination of image quality and manouvreability
Brighter and higher contrast Narrow Band Imaging
NBI in EVIS EXERA III offers a significantly increased viewable distance compared to previous generations. The improved contrast combined with this increased brightness means that NBI opens new possibilities in assisting you in lesion detection and characterization.
Improved image quality
EVIS EXERA III endoscopes offer the highest level of endoscopic image quality, ensuring outstanding colour reproduction and brightness across the whole endoscopic image – decisive in helping you establish a diagnosis. Thanks to improved signal processing, EVIS EXERA III endoscopes feature significantly reduced levels of halation and noise.
Water jet
An integrated water jet channel not only helps you identify the bleeding source during hemostasis but is also helpful during complex therapeutic procedures, by ensuring you always have a clear view of the endoscopic site.
Waterproof One-touch Connector
EVIS EXERA III endoscopes feature a brand-new connector design no longer requiring the connection of a video or ScopeGuide cable. The connector is fully submersible, eliminating the need for a water-resistant cap.
Designed for ease-of-use
Ergonomically designed control section for enhanced colonoscope maneuverability, with easy-to-access controls and user-programmable switches.
M.D. Endoscopy offers the following warranty Terms and Conditions for all equipment purchased and complete refurbishment repairs:
The following warranty terms will last for 24-months from the date of purchase.
Coverage shall include all parts (24-months) and labor (24-months) incurred to the customer from any manufacturer or replacement part defects.
The customer shall be responsible for parts and labor charges for any and all repairs determined by M.D. Endoscopy to be caused by misuse, mishandling, excessive wear & tear, or accidental damage.
The customer shall be responsible for any and all shipping charges incurred, if equipment is determined to be damaged through misuse or mishandling.
Warranty shall be null and void if determined by M.D. Endoscopy that the equipment has been sent to an outside vendor for parts or labor during the warranty period.
Warranty shall also be voided should the equipment be sold to another individual or company.
EXAMPLES of client misuse, mishandling, or accidental damage include:
THERE MAY BE FURTHER INSTANCES OF ACCIDENTAL DAMAGE NOT LISTED ABOVE, IN WHICH THE WARRANTY WILL NOT COVER PARTS OR LABOR CHARGES, M.D. Endoscopy RESERVES THE RIGHT TO MAKE THIS DETERMINATION.
Warranty agreement shall begin on date of client purchase and shall run concurrently for 24 months, including weekends and holidays until expiration.
Request More Info
Add to Cart