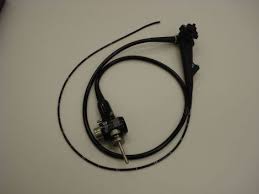 Exera II Olympus GIF-XP180N Video Gastroscope
$8950
-Warranty: 24-Months
-Return Policy: 7-Day Satisfaction Guarantee.
-Condition: Certified Pre-Owned | Refurbished
-Specifications:
Diameter: 5.5mm
Working Length: 110cm
Instrument Channel: 2.0mm
Field of View: 120 degrees
Angulation Range: Up: 210, Down: 90, Right: 100, Left 100
For Sale: Refurbished Olympus GIF-XP180N Slim Gastroscopes
Certified Pre-Owned Used Olympus GIF-XP180N Video Gastroscope Completely Refurbished with 24 Month Warranty.
Specifications:
The Olympus GIF-XP180N is an ultra-slim and an ultra-compact video gastroscope used for gastrointestinal endoscopy applications in hospitals and clinics. It is designed to facilitate detailed examinations in a manner that is more comfortable for the patient. It is equipped with a high-resolution micro CCD which ensures accurate reproduction of textures and structures of the mucous membrane, while its smaller size facilitates easier instrument insertion and also permits the GIF-XP180N to deliver detailed images that allow the user to perform a more accurate observation. It features an insertion tube with a diameter of 5.9 millimeters, an instrument channel with a diameter of 2.0 millimeters, and a distal-end outer diameter of 5.9 millimeters. It has an ergonomically designed grip which enhances device maneuverability, and the easy-to-access control knobs improve its operability.


M.D. Endoscopy offers the following warranty Terms and Conditions for all equipment purchased and complete refurbishment repairs:
The following warranty terms will last for 24-months from the date of purchase.
Coverage shall include all parts (24-months) and labor (24-months) incurred to the customer from any manufacturer or replacement part defects.
The customer shall be responsible for parts and labor charges for any and all repairs determined by M.D. Endoscopy to be caused by misuse, mishandling, excessive wear & tear, or accidental damage.
The customer shall be responsible for any and all shipping charges incurred, if equipment is determined to be damaged through misuse or mishandling.
Warranty shall be null and void if determined by M.D. Endoscopy that the equipment has been sent to an outside vendor for parts or labor during the warranty period.
Warranty shall also be voided should the equipment be sold to another individual or company.
EXAMPLES of client misuse, mishandling, or accidental damage include:
THERE MAY BE FURTHER INSTANCES OF ACCIDENTAL DAMAGE NOT LISTED ABOVE, IN WHICH THE WARRANTY WILL NOT COVER PARTS OR LABOR CHARGES, M.D. Endoscopy RESERVES THE RIGHT TO MAKE THIS DETERMINATION.
Warranty agreement shall begin on date of client purchase and shall run concurrently for 24 months, including weekends and holidays until expiration.
Every
ENDOSCOPE
purchased from MD Endoscopy will arrive with the following accessories:
Case with Key
Air/Water & Suction Valve
Water Resistant Soaking Cap
Cleaning Brushes | Connectors
Operators | Reprocessing Manuals

24-month

Warranty Certificate
Every
PROCESSOR/LIGHTSOURCE
purchased from MD Endoscopy will arrive with the following accessories:
Keyboard
Water Bottle
Video Connector | Pigtail (if applicable)
RGB or SDI Monitor Cable
Power Cords
Photo Cable (if applicable)
Printer Remote Cable (if applicable)
Operators Manual

24-month

Warranty Certificate
Every
COMPLETE SYSTEM
purchased from MD Endoscopy will arrive with the following accessories:
All the above PLUS
FREE Leak Tester
FREE Shipping (US LOCATIONS)
FREE Installation (US LOCATIONS)
FREE Reprocessing | Cleaning In-service (US LOCATIONS)
FREE "Go-Live" Procedure Day Assistance (US LOCATIONS)

24-month

Warranty Certificate