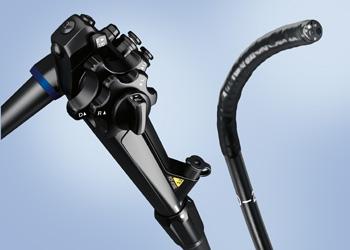 Olympus EXERA III PCF-H190DL Video Colonoscope
$18500
-Warranty: 24-Months
-Return Policy: 7-Day Satisfaction Guarantee.
-Condition: Certified Pre-Owned | Refurbished
-Specifications:
Diameter: 11.8mm
Working Length: 168cm
Instrument Channel: 3.2 mm
Field of View: 170 degrees
Angulation Range: Up: 180, Down: 180, Right: 160, Left 160
For Sale: Refurbished Olympus PCF-H190DL HD Slim Colonoscopes
Certified Pre-Owned Used Olympus PCF-H190DL Video Colonoscope Completely Refurbished with

24 Month Warranty.
Delivers highest possible resolution and image quality
Olympus-exclusive variable stiffness capability
Auxilary water jet facilitates mucosal clensing
Ergonomically designed grip to enhance scope maneuverability and handling
Scope ID function stores individual scope information such as number of procedures performed
The benefit of Narrow Band Imaging (NBI) to enhance visualization of mucosal morphology
Must be used with Exera III CV-190 processor and CLV-190 light source
Responisive Insertion Technology
Olympus

PCF-H190DL

Specifications:
Diameter: 11.8mm
Working Length: 168cm
Instrument Channel: 3.2 mm
Field of View: 170 degrees
Angulation Range: Up: 180, Down: 180, Right: 160, Left 160
The first slim colonoscope with ScopeGuide
Compatibility with ScopeGuide makes this slim colonoscope perfect for difficult insertions due to real-time 3D visualization of the scope's position.
Outstanding, true-to-life HD image quality
EVIS EXERA III endoscopes offer true-to-life HD endoscopic images of breath-taking clarity, delivering the optimum support for accurate diagnosis.
New wider field of view
For the first time, the PCF-H190DL combines 170° field of view with a thin outer diameter, making the PCF-H190DL an ideal tool for diagnosis and screening.
Brighter, more powerful Narrow Band Imaging
Narrow Band Imaging now delivers significantly increased brightness and contrast. Previously widely accepted as a tool for characterisation, the improved brightness may open new possibilities for lesion detection.
Smoother and more comfortable insertion
Responsive Insertion Technology (RIT) is a host of proprietary insertion tube technologies helping you to further increase caecal intubation rates.
The technology is designed to facilitate complete colonoscopies by improving scope handling, insertibility and ergonomics.
As the first slim colonoscope compatible with ScopeGuide, the Olympus PCF-H190DL is perfect colonoscope for difficult insertions providing a real-time view of the scope and maximized maneuverability with Responsive Insertion Technology.
Coupled with HDTV, NBI and a water jet, this slim scope never compromises on visualization.
MD Endoscopy Warranty Terms & Conditions for Equipment Purchases | Complete Refurbishment Repairs:
The following warranty terms will last for 24-months from the date of purchase.
EXAMPLES of client misuse, mishandling, or accidental damage include:
THERE MAY BE FURTHER INSTANCES OF ACCIDENTAL DAMAGE NOT LISTED ABOVE, IN WHICH THE WARRANTY WILL NOT COVER PARTS OR LABOR CHARGES, MD Endoscopy RESERVES THE RIGHT TO MAKE THIS DETERMINATION.
Warranty agreement shall begin on date of client purchase and shall run concurrently for 24 months, including weekends and holidays until expiration.
Every
ENDOSCOPE
purchased from MD Endoscopy will arrive with the following accessories:
Case with Key
Air/Water & Suction Valve
Water Resistant Soaking Cap
Cleaning Brushes | Connectors
Operators | Reprocessing Manuals

24-month

Warranty Certificate
Every
PROCESSOR/LIGHTSOURCE
purchased from MD Endoscopy will arrive with the following accessories:
Keyboard
Water Bottle
Video Connector | Pigtail (if applicable)
RGB or SDI Monitor Cable
Power Cords
Photo Cable (if applicable)
Printer Remote Cable (if applicable)
Operators Manual

24-month

Warranty Certificate
Every
COMPLETE SYSTEM
purchased from MD Endoscopy will arrive with the following accessories:
All the above PLUS
FREE Leak Tester
FREE Shipping (US LOCATIONS)
FREE Installation (US LOCATIONS)
FREE Reprocessing | Cleaning In-service (US LOCATIONS)
FREE "Go-Live" Procedure Day Assistance (US LOCATIONS)

24-month

Warranty Certificate