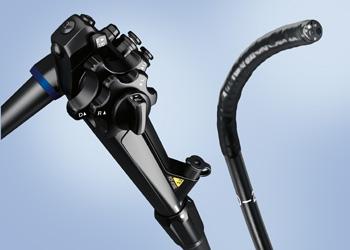 Olympus EXERA III PCF-H190DL Video Colonoscope
$22500
For Sale: Refurbished Olympus PCF-H190DL HD Slim Colonoscopes
Certified Pre-Owned Used Olympus PCF-H190DL Video Colonoscope Completely Refurbished with 24 Month Warranty.
Delivers highest possible resolution and image quality
Olympus-exclusive variable stiffness capability
Auxilary water jet facilitates mucosal clensing
Ergonomically designed grip to enhance scope maneuverability and handling
Scope ID function stores individual scope information such as number of procedures performed
The benefit of Narrow Band Imaging (NBI) to enhance visualization of mucosal morphology
Must be used with Exera III CV-190 processor and CLV-190 light source
Responisive Insertion Technology
Specifications:
Diameter: 11.8mm
Working Length: 168cm
Instrument Channel: 3.2 mm
Field of View: 170 degrees
Angulation Range: Up: 180, Down: 180, Right: 160, Left 160
The first slim colonoscope with ScopeGuide
Compatibility with ScopeGuide makes this slim colonoscope perfect for difficult insertions due to real-time 3D visualization of the scope's position.
Outstanding, true-to-life HD image quality
EVIS EXERA III endoscopes offer true-to-life HD endoscopic images of breath-taking clarity, delivering the optimum support for accurate diagnosis.
New wider field of view
For the first time, the PCF-H190DL combines 170° field of view with a thin outer diameter, making the PCF-H190DL an ideal tool for diagnosis and screening.
Brighter, more powerful Narrow Band Imaging
Narrow Band Imaging now delivers significantly increased brightness and contrast. Previously widely accepted as a tool for characterisation, the improved brightness may open new possibilities for lesion detection.
Smoother and more comfortable insertion
Responsive Insertion Technology (RIT) is a host of proprietary insertion tube technologies helping you to further increase caecal intubation rates.
The technology is designed to facilitate complete colonoscopies by improving scope handling, insertibility and ergonomics.
M.D. Endoscopy offers the following warranty Terms and Conditions for all equipment purchased and complete refurbishment repairs:
The following warranty terms will last for 24-months from the date of purchase.
Coverage shall include all parts (24-months) and labor (24-months) incurred to the customer from any manufacturer or replacement part defects.
The customer shall be responsible for parts and labor charges for any and all repairs determined by M.D. Endoscopy to be caused by misuse, mishandling, excessive wear & tear, or accidental damage.
The customer shall be responsible for any and all shipping charges incurred, if equipment is determined to be damaged through misuse or mishandling.
Warranty shall be null and void if determined by M.D. Endoscopy that the equipment has been sent to an outside vendor for parts or labor during the warranty period.
Warranty shall also be voided should the equipment be sold to another individual or company.
EXAMPLES of client misuse, mishandling, or accidental damage include:
THERE MAY BE FURTHER INSTANCES OF ACCIDENTAL DAMAGE NOT LISTED ABOVE, IN WHICH THE WARRANTY WILL NOT COVER PARTS OR LABOR CHARGES, M.D. Endoscopy RESERVES THE RIGHT TO MAKE THIS DETERMINATION.
Warranty agreement shall begin on date of client purchase and shall run concurrently for 24 months, including weekends and holidays until expiration.
Request More Info
Add to Cart