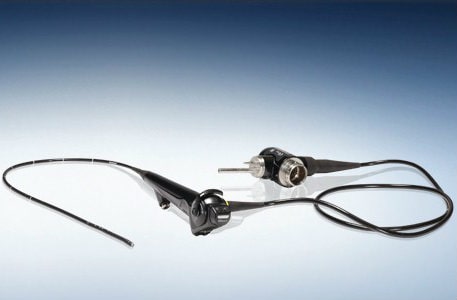 Olympus EXERA III BF-MP190F Video Bronchoscope
$22500
For Sale: Refurbished Olympus BF-MP190F Hybrid Ultra-Slim Bronchoscopes
Certified Pre-Owned Used Olympus BF-MP190F Video Bronchoscope Completely Refurbished with 24 Month Warranty.
The fully-rotatable, ultra-slim design of the BF-MP190F bronchoscope features an optimal ratio of working channel to outer diameter size and is compatible with the radial EBUS probe and an array of sampling devices to expand access to smaller, more distal airways.
Specifications:
Diameter: 3.7mm
Working Length: 600mm
Instrument Channel: 1.7 mm
Field of View: 120 degrees
Angulation Range: Up: 210, Down: 130, Right: 120, Left: 120
Ultra-thin bronchoscope with optimum instrument channel size
The BF-MP190F features a slim, 3.0mm distal end outer diameter, while maintaining a 1.7mm channel diameter for instruments. It facilitates access to peripheral regions for effective diagnostics.
Optimal image quality
The bronchoscope delivers high-resolution image quality comparable to conventional hybrid scopes.
Wider angulation range
210° up angulation range supports smoother insertion to the upper lobe bronchi and allows more of a bend in the scope when an EndoTherapy device is inserted in the endoscope's working channel.
Waterproof one-touch connector
The connector design minimizes the effort required for setup prior to and in between cases. In addition, it is fully submersible and eliminates the need for a water-resistant cap and the associated risk of an expensive repair due to accidental immersion.
Insertion tube rotation function
The insertion tube can be rotated left or right up to 120 degrees by simply turning a ring on the control section of the scope. This supports easier operation and smoother insertion with less operator fatigue.
Targeting and sampling device portfolio
The slim Olympus 1.7mm ultrasound miniature probe is compatible with the scope's working channel, along with a cytology brush and biopsy forceps, for effective confirmation and sampling in peripheral lung regions.
M.D. Endoscopy offers the following warranty Terms and Conditions for all equipment purchased and complete refurbishment repairs:
The following warranty terms will last for 24-months from the date of purchase.
Coverage shall include all parts (24-months) and labor (24-months) incurred to the customer from any manufacturer or replacement part defects.
The customer shall be responsible for parts and labor charges for any and all repairs determined by M.D. Endoscopy to be caused by misuse, mishandling, excessive wear & tear, or accidental damage.
The customer shall be responsible for any and all shipping charges incurred, if equipment is determined to be damaged through misuse or mishandling.
Warranty shall be null and void if determined by M.D. Endoscopy that the equipment has been sent to an outside vendor for parts or labor during the warranty period.
Warranty shall also be voided should the equipment be sold to another individual or company.
EXAMPLES of client misuse, mishandling, or accidental damage include:
THERE MAY BE FURTHER INSTANCES OF ACCIDENTAL DAMAGE NOT LISTED ABOVE, IN WHICH THE WARRANTY WILL NOT COVER PARTS OR LABOR CHARGES, M.D. Endoscopy RESERVES THE RIGHT TO MAKE THIS DETERMINATION.
Warranty agreement shall begin on date of client purchase and shall run concurrently for 24 months, including weekends and holidays until expiration.
Request More Info
Add to Cart