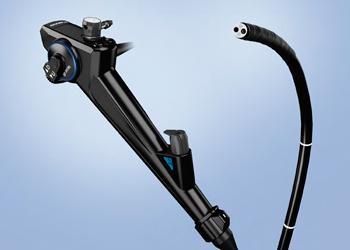 Olympus EXERA III BF-H190 Video Bronchoscope
$10500
-Warranty: 24-Months
-Return Policy: 7-Day Satisfaction Guarantee.
-Condition: Certified Pre-Owned | Refurbished
-Specifications:
Diameter: 5.1mm
Working Length: 60cm
Instrument Channel: 2.0mm
Field of View: 120 degrees
Angulation Range: Up: 210, Down: 130, Right: 120, Left: 120
For Sale: Refurbished Olympus BF-H190 HD Diagnostic Bronchoscopes
Certified Pre-Owned Used Olympus BF-H190 Video Bronchoscope Completely Refurbished with

24 Month Warranty.
The revolutionary design of the BF-H190 bronchoscope, powered by EVIS EXERA III, advances diagnostic bronchoscopy with outstanding handling, improved functionality, and unmatched image quality.
Key Benefits:
Rotary Function: Insertion tube rotation of up to 120° left and right effectively reduces hand torque by 82% when compared to previous generation Olympus bronchoscopes and supports easier insertion and positioning of endoscopic devices.
210° Tip Angulation: The wide angulation range can be maintained even when an endoscopic device is inserted, making it easier to access difficult-to-reach areas.
HDTV: The brighter, crystal clear images delivered by true HDTV enable more detailed observation of bronchial surfaces during bronchoscopy.
Olympus

BF-H190 HD Video Bronchoscope

Specifications:
Diameter: 5.1mm
Working Length: 60cm
Instrument Channel: 2.0mm
Field of View: 120 degrees
Angulation Range: Up: 210, Down: 130, Right: 120, Left: 120
Large high definition bronchoscopic image
The extraordinary image quality of the BF-H190 renders all details of the bronchial tree with superb HDTV sharpness and clarity. Its distal end and insertion tube measure only 5.5 mm and 5.1 mm respectively, making it ideal for routine bronchoscopy.
Narrow Band Imaging capability further increased
NBI is a valuable tool for revealing neoangiogenic changes in the submucosal tissue. NBI capability is now twice the visible distance than before due to the improved performance of the system components. Thus NBI now becomes a really effective observation mode enabling analysis of vascular structures in high contrast.
Improved maneuverability
The unique insertion tube rotation function allows 120° rotation in each direction. This allows precise targeting and biopsy of subsegmental bronchi and evaluation of bronchial subsegments by EBUS miniature probes. This function allows the bronchoscopist to have better body posture in spite of difficult intubating position.
2.0 mm diameter instrument channel
The standard 2.0 mm instrument channel of this bronchoscope accommodates a wide range of EndoTherapy instruments for diagnostic and interventional purposes. It is also compatible with electrosurgical and laser devices.
Scope ID function
The videobronchoscope has a built-in memory chip, allowing scope information to be displayed on the monitor. This enables tracking of video bronchoscopes in the endoscopy unit.
Compatible with reprocessing workflows
The BF-H190 can be embedded into existing cleaning and disinfection workflows, supporting full traceability and documentation of all reprocessing-relevant phases. The scope is also waterproof, making water-resistant caps unnecessary for cleaning, drying and storing.
The BF-H190 is fully compatible with Olympus ETD washer and disinfectants. In addition, Olympus endoscope drying cabinet provides endoscopes with drying and storage facilities for extended periods under safe conditions.
Sterilization
Olympus endoscopes are able to undergo ETO and plasma sterilization. For more details on compatible reprocessing, please contact your representative.
MD Endoscopy Warranty Terms & Conditions for Equipment Purchases | Complete Refurbishment Repairs:
The following warranty terms will last for 24-months from the date of purchase.
EXAMPLES of client misuse, mishandling, or accidental damage include:
THERE MAY BE FURTHER INSTANCES OF ACCIDENTAL DAMAGE NOT LISTED ABOVE, IN WHICH THE WARRANTY WILL NOT COVER PARTS OR LABOR CHARGES, MD Endoscopy RESERVES THE RIGHT TO MAKE THIS DETERMINATION.
Warranty agreement shall begin on date of client purchase and shall run concurrently for 24 months, including weekends and holidays until expiration.
Every
ENDOSCOPE
purchased from MD Endoscopy will arrive with the following accessories:
Case with Key
Air/Water & Suction Valve
Water Resistant Soaking Cap
Cleaning Brushes | Connectors
Operators | Reprocessing Manuals

24-month

Warranty Certificate
Every
PROCESSOR/LIGHTSOURCE
purchased from MD Endoscopy will arrive with the following accessories:
Keyboard
Water Bottle
Video Connector | Pigtail (if applicable)
RGB or SDI Monitor Cable
Power Cords
Photo Cable (if applicable)
Printer Remote Cable (if applicable)
Operators Manual

24-month

Warranty Certificate
Every
COMPLETE SYSTEM
purchased from MD Endoscopy will arrive with the following accessories:
All the above PLUS
FREE Leak Tester
FREE Shipping (US LOCATIONS)
FREE Installation (US LOCATIONS)
FREE Reprocessing | Cleaning In-service (US LOCATIONS)
FREE "Go-Live" Procedure Day Assistance (US LOCATIONS)

24-month

Warranty Certificate