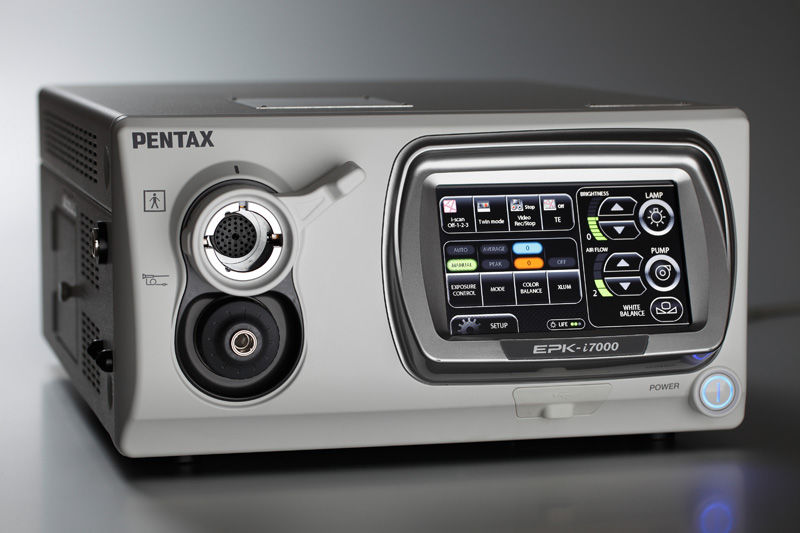 Pentax EPK-i7000 Video Processor
$15000
-Warranty: 24-Months
-Return Policy: 7-Day Satisfaction Guarantee.
-Condition: Certified Pre-Owned | Refurbished
-Availability: Limited
For Sale: Refurbished Pentax EPK-i7000 HD Processor and Light Sources
Certified Pre-Owned with 24 month warranty.
The EPK-i7000's HD picture preparing is intended to give upgraded, exceptionally itemized live and recorded recordings. Propelled highlights incorporate completely advanced sign handling that decreases noticeable commotion and dynamic range development that enlightens hard-to-see distal regions. What's more, Freeze check has been intended to guarantee all caught pictures are clear and liberated from contortion.
The EPK-i7000 is a state-of-the-art video processor engineered for practitioners seeking advanced endoscopic performance. This powerful HD platform offers crisp, clear imaging, and the use of i-scan technology may help improve lesion detection and characterization. The EPK-i7000 is the first endoscopy processor to offer integrated HD recording to collect and share findings. All of these advanced features are easily accessed through an intuitive user interface.
State-of-the-art HD Imaging
The EPK-i7000's HD image processing is designed to provide enhanced, highly detailed live and recorded videos. Advanced features include fully digital signal processing that reduces visible noise and dynamic range expansion that helps illuminate hard-to-see distal areas. In addition, Freeze scan has been designed to ensure all captured images are clear and free of distortion.
i-scan Enhanced Visualization
i-scan is a digital, software-based image enhancement that provides real-time virtual chromoendoscopy1. This physician-controlled per-pixel modification of HD white light images enhances mucosal surface texture and visualization of blood vessels in three algorithms: SE, CE, and TE. In addition, the unique twin mode displays both the white light and enhanced i-scan image simultaneously. Physicians can switch seamlessly in real time among the three i-scan modes and white light image to view multiple aspects of tissue structure, which may increase disease detection and characterization.
Intuitive Control of Advanced Features
The advanced features of the EPK-i7000 image processor are accessed and controlled through an intuitive touch screen interface. This customizable user interface allows for an efficient endoscopic workflow.


M.D. Endoscopy offers the following warranty Terms and Conditions for all equipment purchased and complete refurbishment repairs:
The following warranty terms will last for 24-months from the date of purchase.
Coverage shall include all parts (24-months) and labor (24-months) incurred to the customer from any manufacturer or replacement part defects.
The customer shall be responsible for parts and labor charges for any and all repairs determined by M.D. Endoscopy to be caused by misuse, mishandling, excessive wear & tear, or accidental damage.
The customer shall be responsible for any and all shipping charges incurred, if equipment is determined to be damaged through misuse or mishandling.
Warranty shall be null and void if determined by M.D. Endoscopy that the equipment has been sent to an outside vendor for parts or labor during the warranty period.
Warranty shall also be voided should the equipment be sold to another individual or company.
EXAMPLES of client misuse, mishandling, or accidental damage include:
THERE MAY BE FURTHER INSTANCES OF ACCIDENTAL DAMAGE NOT LISTED ABOVE, IN WHICH THE WARRANTY WILL NOT COVER PARTS OR LABOR CHARGES, M.D. Endoscopy RESERVES THE RIGHT TO MAKE THIS DETERMINATION.
Warranty agreement shall begin on date of client purchase and shall run concurrently for 24 months, including weekends and holidays until expiration.
Every
ENDOSCOPE
purchased from MD Endoscopy will arrive with the following accessories:
Case with Key
Air/Water & Suction Valve
Water Resistant Soaking Cap
Cleaning Brushes | Connectors
Operators | Reprocessing Manuals

24-month

Warranty Certificate
Every
PROCESSOR/LIGHTSOURCE
purchased from MD Endoscopy will arrive with the following accessories:
Keyboard
Water Bottle
Video Connector | Pigtail (if applicable)
RGB or SDI Monitor Cable
Power Cords
Photo Cable (if applicable)
Printer Remote Cable (if applicable)
Operators Manual

24-month

Warranty Certificate
Every
COMPLETE SYSTEM
purchased from MD Endoscopy will arrive with the following accessories:
All the above PLUS
FREE Leak Tester
FREE Shipping (US LOCATIONS)
FREE Installation (US LOCATIONS)
FREE Reprocessing | Cleaning In-service (US LOCATIONS)
FREE "Go-Live" Procedure Day Assistance (US LOCATIONS)

24-month

Warranty Certificate