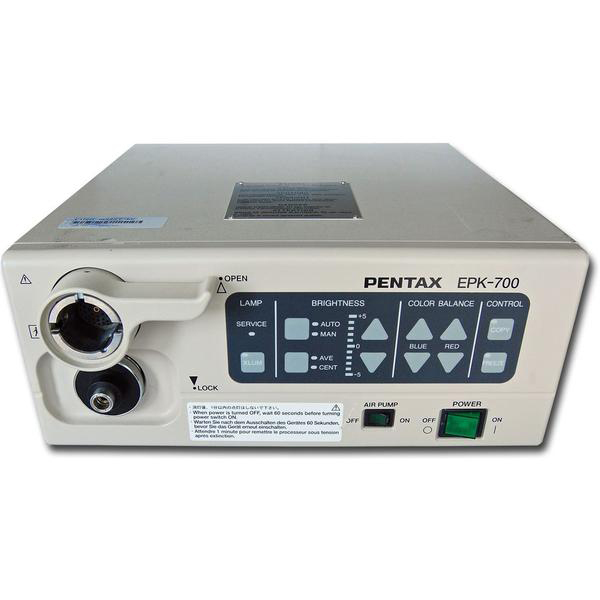 PENTAX EPK-700 VIDEO PROCESSOR / LIGHT SOURCE
$3500
-Warranty: 24-Months
-Return Policy: 7-Day Satisfaction Guarantee.
-Condition: Certified Pre-Owned | Refurbished
-Availability: In-Stock
For Sale: Refurbished Pentax EPK-700 Processor and Light Sources
Certified Pre-Owned with 24 month warranty.
Compatible with all K – series Pentax endoscopes
Compact unit with built in 100W Xenon Light Source
Has composite, Y/C and RGB Video Outputs
The Pentax EPK-700 Video Processor uses a built-in 70W Metal Halide Lamp for illumination of surgical sites with color temperature that reaches 12000 degrees Kelvin. Such powerful brilliance helps create high quality digital images with true colors, providing accurate visuals during endoscopic procedures. It can work with several video outputs such as RGBS, Composite, and S-Video. Its numerous video ports provides more flexibility in working with currently available equipment. Additionally, it is designed with a user-friendly interface that provides convenience and efficiency. Its copy switch and freeze switch functions are useful during documentation. Copy Switch automatically freezes an image then activates a printer to produce a hard copy of the image. The Freeze Switch displays the still image on the main screen while it creates a smaller screen for the live feed.


M.D. Endoscopy offers the following warranty Terms and Conditions for all equipment purchased and complete refurbishment repairs:
The following warranty terms will last for 24-months from the date of purchase.
Coverage shall include all parts (24-months) and labor (24-months) incurred to the customer from any manufacturer or replacement part defects.
The customer shall be responsible for parts and labor charges for any and all repairs determined by M.D. Endoscopy to be caused by misuse, mishandling, excessive wear & tear, or accidental damage.
The customer shall be responsible for any and all shipping charges incurred, if equipment is determined to be damaged through misuse or mishandling.
Warranty shall be null and void if determined by M.D. Endoscopy that the equipment has been sent to an outside vendor for parts or labor during the warranty period.
Warranty shall also be voided should the equipment be sold to another individual or company.
EXAMPLES of client misuse, mishandling, or accidental damage include:
THERE MAY BE FURTHER INSTANCES OF ACCIDENTAL DAMAGE NOT LISTED ABOVE, IN WHICH THE WARRANTY WILL NOT COVER PARTS OR LABOR CHARGES, M.D. Endoscopy RESERVES THE RIGHT TO MAKE THIS DETERMINATION.
Warranty agreement shall begin on date of client purchase and shall run concurrently for 24 months, including weekends and holidays until expiration.
Every
ENDOSCOPE
purchased from MD Endoscopy will arrive with the following accessories:
Case with Key
Air/Water & Suction Valve
Water Resistant Soaking Cap
Cleaning Brushes | Connectors
Operators | Reprocessing Manuals

24-month

Warranty Certificate
Every
PROCESSOR/LIGHTSOURCE
purchased from MD Endoscopy will arrive with the following accessories:
Keyboard
Water Bottle
Video Connector | Pigtail (if applicable)
RGB or SDI Monitor Cable
Power Cords
Photo Cable (if applicable)
Printer Remote Cable (if applicable)
Operators Manual

24-month

Warranty Certificate
Every
COMPLETE SYSTEM
purchased from MD Endoscopy will arrive with the following accessories:
All the above PLUS
FREE Leak Tester
FREE Shipping (US LOCATIONS)
FREE Installation (US LOCATIONS)
FREE Reprocessing | Cleaning In-service (US LOCATIONS)
FREE "Go-Live" Procedure Day Assistance (US LOCATIONS)

24-month

Warranty Certificate