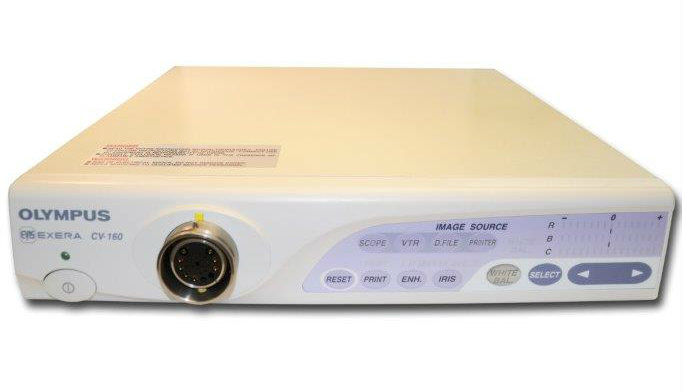 OLYMPUS EXERA CV-160 VIDEO PROCESSOR
$4000
For Sale: Refurbished Olympus CV-160 Processors
Certified Pre-Owned Used Olympus CV-160 Video System Completely Refurbished with 24 mth warranty.
Compatible with the full range of endoscopes from EVIS 100, 130, 140 and 160 series endoscopes
Electronic structural enhancement highlights minute details without increasing noise
Full height expanded display mode
35% more compact design
Wide screen image functionality when used in conjunction with Q series endoscopes such as GIF-Q160 and CF-Q160L
Is compatible with ultra mini-ccd video scopes such as the GIF-XP160
Pre-set scope switch functions. Endoscopist has a choice from up to 20 pre-set endoscope switch functions
Pre-program patient data. Up to 40 files of patient data can be pre-entered into memory to expedite procedure turn around
Specifications:
Width: 37.0 cm
Height: 7.2 cm
Length: 42.0 cm
Weight: 8 kg
Designed exclusively for the EVIS EXERA
TM
160 Series, the CV-160 features a leading-edge video signal processing technology configured to frequency components specifically suited for endoscopic images, allowing it to enhance details while simultaneously suppressing noise. The result is a more detailed image that makes it easier to spot minute tissue textures and subtle color variations on the mucous membrane.

As for versatility, the CV-160 video system center can also accommodate EVIS EXERA
TM
video bronchoscopes so you can use the same system for both gastrointestinal endoscopy and bronchoscopy. It's also fully compatible with the EVIS 100/130/140 Series gastrointestinal scopes.
* Powerful structure enhancement circuitry uses frequencies specifically suited to endoscopic images to ensure more accurate observation
* Offers full height mode that uses the full vertical area of the monitor screen to display images larger, allowing for closer examination of the image area
* Ergonomically designed front panel is user-friendly and the newly designed keyboard provides for clear and simple operation
* Can be used with EVIS Exera video bronchoscopes as well, enabling you to use the same system for both gastrointestinal endoscopy and bronchoscopy
* Compatible with EVIS 100/130/140 Series scopes
* Scope ID function offers more efficient management and control, including automatic control of white balance and maintenance reminder
* Features a digital image terminal which enables direct transfer of endoscopic still images to a PC for storage using dedicated interface software


M.D. Endoscopy offers the following warranty Terms and Conditions for all equipment purchased and complete refurbishment repairs:
The following warranty terms will last for 24-months from the date of purchase.
Coverage shall include all parts (24-months) and labor (24-months) incurred to the customer from any manufacturer or replacement part defects.
The customer shall be responsible for parts and labor charges for any and all repairs determined by M.D. Endoscopy to be caused by misuse, mishandling, excessive wear & tear, or accidental damage.
The customer shall be responsible for any and all shipping charges incurred, if equipment is determined to be damaged through misuse or mishandling.
Warranty shall be null and void if determined by M.D. Endoscopy that the equipment has been sent to an outside vendor for parts or labor during the warranty period.
Warranty shall also be voided should the equipment be sold to another individual or company.
EXAMPLES of client misuse, mishandling, or accidental damage include:
THERE MAY BE FURTHER INSTANCES OF ACCIDENTAL DAMAGE NOT LISTED ABOVE, IN WHICH THE WARRANTY WILL NOT COVER PARTS OR LABOR CHARGES, M.D. Endoscopy RESERVES THE RIGHT TO MAKE THIS DETERMINATION.
Warranty agreement shall begin on date of client purchase and shall run concurrently for 24 months, including weekends and holidays until expiration.
Request More Info
Add to Cart