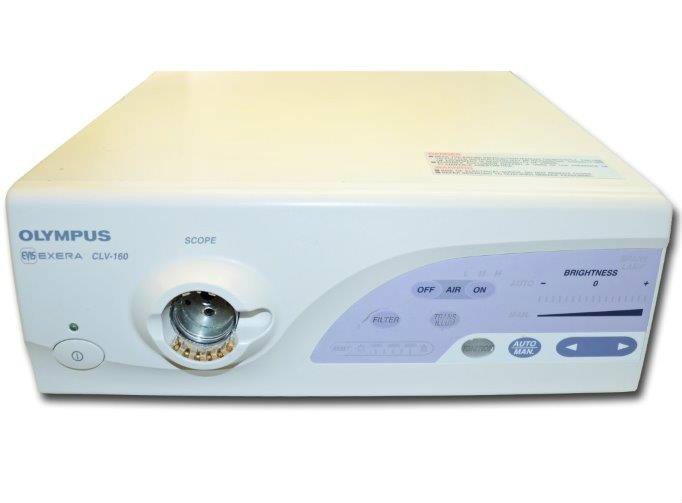 OLYMPUS EXERA CLV-160 300W XENON LIGHT SOURCE
$3000
For Sale: Refurbished Olympus CLV-160 Light Sources
Certified Pre-Owned Used Olympus CLV-160 Light Source Completely Refurbished with 24 mth warranty.
Automatic brightness control
Average lamp life of approximate 500 hours
Air feeding pump with 4 level switching
Emergency backup lamp
Compatible with Evis 200, 160, 140, 100 series video scopes to OES fiber scopes and all rigid endoscope
Specifications:
Width: 37 cm
Height: 13.5 cm
Length: 42 cm
Weight: 15 kg


With its improved condenser lens design and powerful 300W xenon lamp, the EVIS EXERATM 160 Series' dedicated light source, the CLV-160, is able to generate 30% more light intensity than its predecessor, the CLV-U40. This new design and power assures clear, accurate observation even of distant points. When combined with the CV-160 video system center, the CLV-160 provides a system that is a full 80mm narrower and 35% smaller than previous Olympus models, allowing for the entire system to be installed on a dedicated cart together with a video monitor and other ancillary equipment.

* Powerful 300W xenon lamp for Olympus color CCD videoscope system
* New and improved condenser design helps achieve nearly 1.3x as much light intensity as the CLV-U40
* User-friendly front panel design
* Illumination capability to cover even more distant points assures sufficient brightness when retroflexing the scope tip, observing the lower esophagus, and more
* Improvement in light adjustment levels helps maintain appropriate brightness even when observing at extremely close range or observing the gastric angulus
* 35% reduction in overall size compared to its predecessor, with width reduced by a full 80mm, saving space in your endoscopy suite
* Simple membrane switches and clear indicators on the front panel for improved operability
* Compatible with conventional Olympus color CCD videoscopes and fiberscopes
* Electronic lamp light indicator

M.D. Endoscopy offers the following warranty Terms and Conditions for all equipment purchased and complete refurbishment repairs:

The following warranty terms will last for 24-months from the date of purchase.

Coverage shall include all parts (24-months) and labor (24-months) incurred to the customer from any manufacturer or replacement part defects.

The customer shall be responsible for parts and labor charges for any and all repairs determined by M.D. Endoscopy to be caused by misuse, mishandling, excessive wear & tear, or accidental damage.

The customer shall be responsible for any and all shipping charges incurred, if equipment is determined to be damaged through misuse or mishandling.

Warranty shall be null and void if determined by M.D. Endoscopy that the equipment has been sent to an outside vendor for parts or labor during the warranty period.

Warranty shall also be voided should the equipment be sold to another individual or company.

EXAMPLES of client misuse, mishandling, or accidental damage include:

THERE MAY BE FURTHER INSTANCES OF ACCIDENTAL DAMAGE NOT LISTED ABOVE, IN WHICH THE WARRANTY WILL NOT COVER PARTS OR LABOR CHARGES, M.D. Endoscopy RESERVES THE RIGHT TO MAKE THIS DETERMINATION.

Warranty agreement shall begin on date of client purchase and shall run concurrently for 24 months, including weekends and holidays until expiration.
Request More Info
Add to Cart