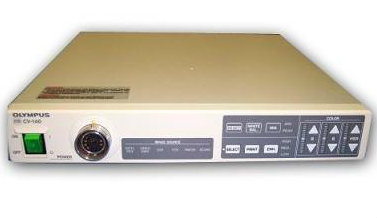 Olympus Evis CV-140 Video Processor
$3500
For Sale: Refurbished Olympus CV-140 Processors
Certified Pre-Owned Used Olympus CV-140 Video System Completely Refurbished with 24 mth warranty.
Compatible with the full range of endoscopes from EVIS 100, 130 and 140 series endoscopes
Wide screen image functionality with used in conjunction with Q series endoscopes such as GIF-Q140 and CF-Q140L
Pre-set scope switch functions. Endoscopist has a choice from up to 20 pre-set endoscope switch functions
Pre-program patient data. Up to 40 files of patient data can be pre-entered into memory to expedite procedure turn around
Specifications:
Width: 45.0 cm
Height: 7.2 cm
Length: 46.5 cm
Weight: 10 kg
The Olympus CV-140 Video Processor is equipped with built-in functions that surgeons can count on for clear and accurate live feed of images from inside the patient's body. It can enhance, freeze, and adjust color settings for high quality output. Its Automatic Gain Control (AGC) feature electrically boosts an image when there is no adequate lighting. This usually happens when the subject is too far from the distal end of the scope. Its freeze screen feature displays a stationary image either through the use of endoscope switch or keyboard. Its image enhancement feature delivers sharper quality by amplifying the outline of endoscopic images. It also offers flexible options for video output such as VBS, S-Video, RGB, and these can be used simultaneously. The system can also store data of up to 40 patients, allowing efficiency in documenting cases and procedures.


M.D. Endoscopy offers the following warranty Terms and Conditions for all equipment purchased and complete refurbishment repairs:
The following warranty terms will last for 24-months from the date of purchase.
Coverage shall include all parts (24-months) and labor (24-months) incurred to the customer from any manufacturer or replacement part defects.
The customer shall be responsible for parts and labor charges for any and all repairs determined by M.D. Endoscopy to be caused by misuse, mishandling, excessive wear & tear, or accidental damage.
The customer shall be responsible for any and all shipping charges incurred, if equipment is determined to be damaged through misuse or mishandling.
Warranty shall be null and void if determined by M.D. Endoscopy that the equipment has been sent to an outside vendor for parts or labor during the warranty period.
Warranty shall also be voided should the equipment be sold to another individual or company.
EXAMPLES of client misuse, mishandling, or accidental damage include:
THERE MAY BE FURTHER INSTANCES OF ACCIDENTAL DAMAGE NOT LISTED ABOVE, IN WHICH THE WARRANTY WILL NOT COVER PARTS OR LABOR CHARGES, M.D. Endoscopy RESERVES THE RIGHT TO MAKE THIS DETERMINATION.
Warranty agreement shall begin on date of client purchase and shall run concurrently for 24 months, including weekends and holidays until expiration.
Request More Info
Add to Cart