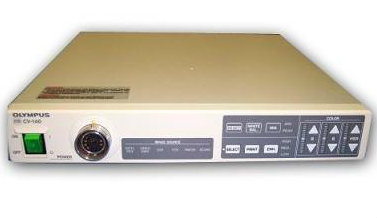 Olympus Evis CV-140 Video Processor
$3500
-

Warranty:

24-Months-

Return Policy:

7-Day Satisfaction Guarantee. -

Condition:

Certified Pre-Owned | Refurbished-

Availability:

In-Stock
For Sale:

Refurbished Olympus CV-140 Processors
Certified Pre-Owned Used Olympus CV-140 Video System Completely Refurbished with

24 Month Warranty.
Compatible with the full range of endoscopes from EVIS 100, 130 and 140 series endoscopes
Wide screen image functionality with used in conjunction with Q series endoscopes such as GIF-Q140 and CF-Q140L
Pre-set scope switch functions. Endoscopist has a choice from up to 20 pre-set endoscope switch functions
Pre-program patient data. Up to 40 files of patient data can be pre-entered into memory to expedite procedure turn around
Olympus

CV-140 Processor

Specifications:
Width: 45.0 cm
Height: 7.2 cm
Length: 46.5 cm
Weight: 10 kg
The Olympus CV-140 Video Processor is equipped with built-in functions that surgeons can count on for clear and accurate live feed of images from inside the patient's body. It can enhance, freeze, and adjust color settings for high quality output. Its Automatic Gain Control (AGC) feature electrically boosts an image when there is no adequate lighting. This usually happens when the subject is too far from the distal end of the scope. Its freeze screen feature displays a stationary image either through the use of endoscope switch or keyboard. Its image enhancement feature delivers sharper quality by amplifying the outline of endoscopic images. It also offers flexible options for video output such as VBS, S-Video, RGB, and these can be used simultaneously. The system can also store data of up to 40 patients, allowing efficiency in documenting cases and procedures.
MD Endoscopy Warranty Terms & Conditions for Equipment Purchases | Complete Refurbishment Repairs:
The following warranty terms will last for 24-months from the date of purchase.
EXAMPLES of client misuse, mishandling, or accidental damage include:
THERE MAY BE FURTHER INSTANCES OF ACCIDENTAL DAMAGE NOT LISTED ABOVE, IN WHICH THE WARRANTY WILL NOT COVER PARTS OR LABOR CHARGES, MD Endoscopy RESERVES THE RIGHT TO MAKE THIS DETERMINATION.
Warranty agreement shall begin on date of client purchase and shall run concurrently for 24 months, including weekends and holidays until expiration.
Every
ENDOSCOPE
purchased from MD Endoscopy will arrive with the following accessories:
Case with Key
Air/Water & Suction Valve
Water Resistant Soaking Cap
Cleaning Brushes | Connectors
Operators | Reprocessing Manuals

24-month

Warranty Certificate
Every
PROCESSOR/LIGHTSOURCE
purchased from MD Endoscopy will arrive with the following accessories:
Keyboard
Water Bottle
Video Connector | Pigtail (if applicable)
RGB or SDI Monitor Cable
Power Cords
Photo Cable (if applicable)
Printer Remote Cable (if applicable)
Operators Manual

24-month

Warranty Certificate
Every
COMPLETE SYSTEM
purchased from MD Endoscopy will arrive with the following accessories:
All the above PLUS
FREE Leak Tester
FREE Shipping (US LOCATIONS)
FREE Installation (US LOCATIONS)
FREE Reprocessing | Cleaning In-service (US LOCATIONS)
FREE "Go-Live" Procedure Day Assistance (US LOCATIONS)

24-month

Warranty Certificate