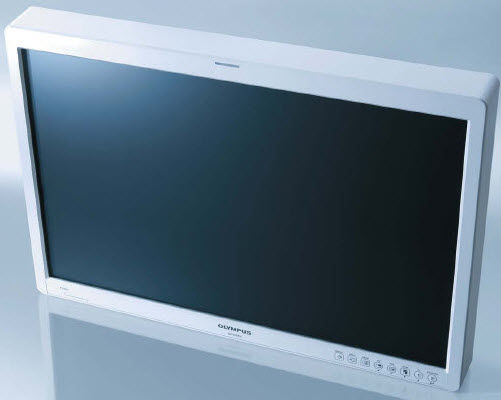 Olympus OEV-261H LCD HD Monitor
$2500
-Warranty:
24-Months
-Return Policy:
7-Day Satisfaction Guarantee.
-Condition:
Certified Pre-Owned | Refurbished
-Availability:
In-Stock
For Sale: Refurbished OEV-261H HD Medical Monitor
Certified Pre-Owned with 24 month warranty.
The OEV-261H is a 26" LCD monitor able to display full High Definition (HD) images and has been designed specifically for use with Olympus endoscopy systems. It has a range of display modes including PIP and POP, to allow for the optimal display of images, and multiple input terminals, ensuring compatibility with a wide range of image sources.
Key Benefits:


Full HD imaging designed specifically for Olympus endoscopes
The OEV-261H has a large, 26" screen designed to display full High Definition (HD) images, and is specifically designed for use with Olympus endoscopy systems.


Various display modes to match clinical needs
A range of image sizes and picture-in-picture (PIP) or picture-out-picture (POP) modes can be chosen to display images in the optimum configuration. By integrating numerous image sources on one monitor, ergonomic comfort can be significantly improved.


Multiple input terminals for a range of video signals
The OEV-261H has input terminals for multiple High Definition and Standard Definition inputs, allowing a wide range of video signals from different endoscopy systems to be displayed.


Customizable user settings
As well as ten factory settings, 20 user settings can be registered easily and recalled instantly, improving procedural efficiency and preparation time.
Specifications:
Full HD compatibility
The OEV-261H has a 26 inch WUXGA LCD 1920 x 1200 pixel panel capable of displaying full HDTV images, giving you crystal-clear images from HD or SD endoscopes.
Extremely high contrast ratio
This monitor has an extremely high contrast ratio to ensure crisp rendition of brighter and darker areas - this helps you distinguish between physiological structures, assisting with an accurate diagnosis.
Various display modes
This 26" monitor has a variety of display modes including PIP and POP allowing you to show a number of video inputs at once. Image quality and gamma settings can be adjusted for each input, so you can tailor the display to your exact needs.
User-programmable functions
The OEV-261H has 20 user-programmable settings, allowing you to customise it to suit your needs. It can also be programmed to react to switches on the control section of your endoscope, allowing effortless and efficient endoscopy.
Multiple input terminals
The back panel of this monitor has space for multiple HD and SD inputs, allowing you to connect a range of video inputs and use a wide variety of endoscope systems.
M.D. Endoscopy offers the following warranty Terms and Conditions for all equipment purchased and complete refurbishment repairs:
The following warranty terms will last for 24-months from the date of purchase.
Coverage shall include all parts (24-months) and labor (24-months) incurred to the customer from any manufacturer or replacement part defects.
The customer shall be responsible for parts and labor charges for any and all repairs determined by M.D. Endoscopy to be caused by misuse, mishandling, excessive wear & tear, or accidental damage.
The customer shall be responsible for any and all shipping charges incurred, if equipment is determined to be damaged through misuse or mishandling.
Warranty shall be null and void if determined by M.D. Endoscopy that the equipment has been sent to an outside vendor for parts or labor during the warranty period.
Warranty shall also be voided should the equipment be sold to another individual or company.
EXAMPLES of client misuse, mishandling, or accidental damage include:
THERE MAY BE FURTHER INSTANCES OF ACCIDENTAL DAMAGE NOT LISTED ABOVE, IN WHICH THE WARRANTY WILL NOT COVER PARTS OR LABOR CHARGES, M.D. Endoscopy RESERVES THE RIGHT TO MAKE THIS DETERMINATION.
Warranty agreement shall begin on date of client purchase and shall run concurrently for 24 months, including weekends and holidays until expiration.
Every
ENDOSCOPE
purchased from MD Endoscopy will arrive with the following accessories:
Case with Key
Air/Water & Suction Valve
Water Resistant Soaking Cap
Cleaning Brushes | Connectors
Operators | Reprocessing Manuals

24-month

Warranty Certificate
Every
PROCESSOR/LIGHTSOURCE
purchased from MD Endoscopy will arrive with the following accessories:
Keyboard
Water Bottle
Video Connector | Pigtail (if applicable)
RGB or SDI Monitor Cable
Power Cords
Photo Cable (if applicable)
Printer Remote Cable (if applicable)
Operators Manual

24-month

Warranty Certificate
Every
COMPLETE SYSTEM
purchased from MD Endoscopy will arrive with the following accessories:
All the above PLUS
FREE Leak Tester
FREE Shipping (US LOCATIONS)
FREE Installation (US LOCATIONS)
FREE Reprocessing | Cleaning In-service (US LOCATIONS)
FREE "Go-Live" Procedure Day Assistance (US LOCATIONS)

24-month

Warranty Certificate