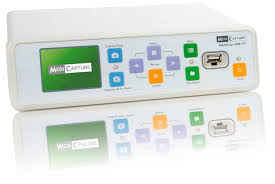 Medicapture USB-170 Image Capture Device
$2000
-Warranty: 24-Months
-Return Policy: 7-Day Satisfaction Guarantee.
-Condition: Certified Pre-Owned | Refurbished
-Availability: Limited
For Sale: Refurbished Medicap USB-170
Certified Pre-Owned with 24 month warranty.
The MediCap™ 170 makes recording still images easier than ever. Simply tap a footswitch or use a trigger to record high quality images directly to a USB flash drive.
Need to save patient information? Just plug in a keyboard. Want more storage? Connect a USB hard drive. Need access via a network? An easy upgrade allows any computer on the network to copy the videos and images from the MediCap.
There's no need to replace your existing equipment to enjoy the benefits of digital recording. The MediCap works with all standard medical video devices such as endocopes, arthroscopes, surgical microscopes, C-Arms, and ultrasounds.
Specifications:
Media
Records to USB flash drive (included) or
USB hard drive (not included)
Case
Rugged metal case with high-impact plastic faceplate
Monitor
2 1/2" LCD (for video confirmation only;
not for diagnosis)
Buttons
Sealed membrane, fluid resistant
Video In/Out
PAL or NTSC
S-video or composite BNC connections
Image Formats
JPG, TIF, PNG, DICOM
Image Size

1280 x 1024, 1024 x 768, 800 x 600, 640 x 480 pixels
USB Support
USB2.0, high speed,
1 front connector, 3 rear connectors
Networking
Ethernet T10/100 connection via
Network Upgraded Kit (optional)
Footswitch/
Trigger Support
Standard 3.5mm mini jack
(footswitch optional)
Mechanical
Size: 240 x 200 x 63mm / 9.5 x 7.9 x 2.5"
Weight: 1.7kg / 3lb 12oz
Environmental
Storage: -40° to +85° C
Operating: -20° to +40° C
Power
AC 100-240V 50/60Hz 20W
3-prong AC jack
Certifications
CE 93/42/EEC, IEC 60601-1:2005,
ANSI/AAMI ES60601-1:2005,
CAN/CSA C22.2 No.60601-1:2008,
E361228, FCC Part 15, FDA Class 1, RoHS
Kit Contents
MediCap USB170
USB flash drive
Power cable
Video cables
User guide
Medicap USB-170 Image Capture Device
The USB170 is the medical industry's easiest, most affordable image capture device.


Works with All Medical Cameras
Record pictures from your endoscope, arthroscope, surgical camera, ultrasound, etc. Save to an internal hard drive or external USB flash drive. Can be accessed via any computer on your network.
Intuitive Use
It's so easy, most users never look at the manual. Just plug it in and go. You'll be recording pictures within minutes of opening the box.
Medical Grade
With its steel case and fluid resistant front panel, the USB170 is built to withstand the rigors of the OR, and it's so compact it will fit on any cart.


M.D. Endoscopy offers the following warranty Terms and Conditions for all equipment purchased and complete refurbishment repairs:
The following warranty terms will last for 24-months from the date of purchase.
Coverage shall include all parts (24-months) and labor (24-months) incurred to the customer from any manufacturer or replacement part defects.
The customer shall be responsible for parts and labor charges for any and all repairs determined by M.D. Endoscopy to be caused by misuse, mishandling, excessive wear & tear, or accidental damage.
The customer shall be responsible for any and all shipping charges incurred, if equipment is determined to be damaged through misuse or mishandling.
Warranty shall be null and void if determined by M.D. Endoscopy that the equipment has been sent to an outside vendor for parts or labor during the warranty period.
Warranty shall also be voided should the equipment be sold to another individual or company.
EXAMPLES of client misuse, mishandling, or accidental damage include:
THERE MAY BE FURTHER INSTANCES OF ACCIDENTAL DAMAGE NOT LISTED ABOVE, IN WHICH THE WARRANTY WILL NOT COVER PARTS OR LABOR CHARGES, M.D. Endoscopy RESERVES THE RIGHT TO MAKE THIS DETERMINATION.
Warranty agreement shall begin on date of client purchase and shall run concurrently for 24 months, including weekends and holidays until expiration.
Every
ENDOSCOPE
purchased from MD Endoscopy will arrive with the following accessories:
Case with Key
Air/Water & Suction Valve
Water Resistant Soaking Cap
Cleaning Brushes | Connectors
Operators | Reprocessing Manuals

24-month

Warranty Certificate
Every
PROCESSOR/LIGHTSOURCE
purchased from MD Endoscopy will arrive with the following accessories:
Keyboard
Water Bottle
Video Connector | Pigtail (if applicable)
RGB or SDI Monitor Cable
Power Cords
Photo Cable (if applicable)
Printer Remote Cable (if applicable)
Operators Manual

24-month

Warranty Certificate
Every
COMPLETE SYSTEM
purchased from MD Endoscopy will arrive with the following accessories:
All the above PLUS
FREE Leak Tester
FREE Shipping (US LOCATIONS)
FREE Installation (US LOCATIONS)
FREE Reprocessing | Cleaning In-service (US LOCATIONS)
FREE "Go-Live" Procedure Day Assistance (US LOCATIONS)

24-month

Warranty Certificate