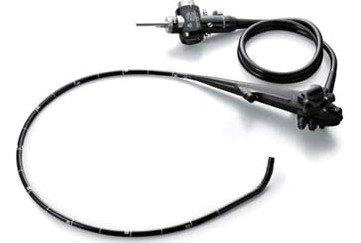 Olympus EXERA II GIF-H180J Video Gastroscope
Request a Quote
Certified pre-owned with a 24 month warranty.
Delivers highest possible resolution and image quality
Ergonomically designed grip to enhance scope maneuverability and handling
Scope ID function stores individual scope information such as number of procedures performed
When used with a Exera II 180 processor and light source, you have the benefit of Narrow Band Imaging (NBI) to enhance visualization of mucosal morphology
Must be used with Exera II CV-180 processor and CLV-180 light source. Also compatible with CV-190 Video Endoscopy Processor System.
Auxiliary water channel flushes out blood and mucus inside the upper gastrointestinal tract, helping to ensure a clear view at all times.
Specifications:
Diameter: 9.9mm
Working Length: 103cm
Instrument Channel: 2.8 mm
Field of View: 140 degrees
Angulation Range: Up: 210, Down: 90, Right: 100, Left 100
Request Quote